U principu je jednostavno.
Glagol je glavni baja u rečenici i on stoji na drugom mestu.
A subjekat je kao neka ljubomorna lujka koja se vrti oko njega, pa ili je ispred ili iza glagola. Ali se ne odvaja od njega, ne pušta. Ko španska serija.
Obrni okreni Baja – glagol je na 2. mestu a subjekat na 1. ili 3.
A kako to izgleda u praksi. Evo ovako:
Ich stehe um 7 Uhr auf   dođe mu isto što i     Um 7 Uhr stehe ich auf
Kao što vidite kada kažem na prvom mestu u rečenici ne mislim bukvalno na prvu reč, već na celinu koja ima smisla, u gornjem slučaju to je um 7 Uhr.
A sad malo vi žonglirajte reči u rečenici i zabavite se dok vežbate na Quizletu:
Inversion in der deutschen Sprache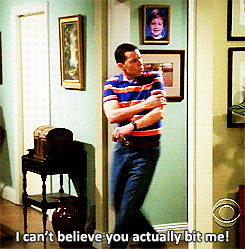 E sada, kada se u rečenici pojave DVA glagola, struktura je malo drugačija, jer kao i u životu ne mogu DVA frajera da stoje jedan pored drugog. Konkurencija je velika i to Baja – glagol ne podnosi.
Zato će jedan lepo ostati na drugom mestu (haben, sein, werden), a drugi glagol ide na sam kraj rečenice. Daleko su jedan od drugog i nema frke.
Ovaka raspodela važi u svim složenim vremenima, da ne kažem svim složenim situacijama, kada se pojave DVA glagola na istom prostoru. To je npr: u perfektu, pasivnim rečenicama, u konjuktivu, budećem vremenu, sa modalnim glagolima isl. Za početak dovoljno je ovoliko.
Ich muss jetzt gehen!